Nuance® Dragon® Medical One is a secure, portable, accurate, cloud-based medical dictation application available on a subscription basis and is licensed per-user.
Image Management, LLC is a Nuance partner and expects to be offering this product by mid-late February. Please let us know you are interested by sending us a quick email to Info@Image-Management.com or, use our contact form at bottom of page.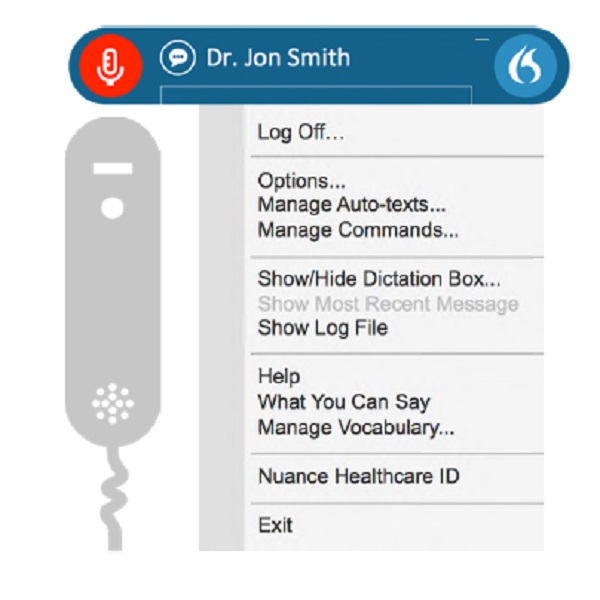 Dragon Medical One includes a small-footprint client application that is loaded on as many PCs as the user would like.
The user's voice profile is available seamlessly once the user has signed in to the cloud platform with their Nuance Healthcare ID. See product desktop application image at left.
If you currently use this product at your affiliated hospitals but do not have rights to use the product outside the hospital, you can purchase your own entity license and can continue to use your Nuance voice profile created at the hospital. Your personal Nuance Healthcare ID is the key.
This product allows the creation of custom vocabularies, auto-text "commands" with defaults, select-and-say voice editing, navigation commands and more.
Users can use physical microphones such as the PowerMic III or the subscription-based PowerMic Mobile application.
Overview of Subscription Contracts/Fees/Promos:
Contracts run for your choice of two or three years with the subscription amount paid monthly. There is a reduced first year rate for users that choose a three year contract.
If you are an existing Dragon Medical Practice Edition User/Owner, there is a discounted monthly rate for the first 12 months of your contract.
There is a new short-term promotion valid through March 31, 2018 -- where new contract purchasers will receive a free PowerMic III.
To ensure users have no issues, the manufacturer also requires setup/training for each new user. A one-time fee covers these services.
Prices are standardized by the manufacturer and no other discounts are available as the subscription fee is billed directly by the manufacturer's distributor.
Let us know you are interested in Dragon Medical One and we'll contact you with pricing and other info as soon as we are able to provide the product.
Image Management, LLC is a Nuance partner and expects to be offering this product by mid-late February. Please let us know you are interested by sending us a quick email to Info@Image-Management.com or, use or contact form below: